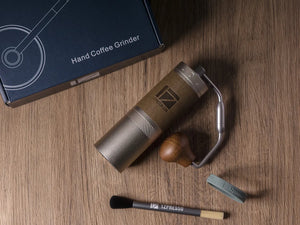 1Zpresso X-PRO S Manual Coffee Grinder
Sale price Price ₹ 18,149.00 Regular price
Tax included.
The X-Pro S grinder boasts a sleek and compact design, making it effortless to grind coffee. Its new external adjustment design allows for easy and painless zeroing of the grinder, ensuring optimal precision and control.

Whether you're a coffee enthusiast or a professional barista, the X-Pro grinder provides a convenient and efficient coffee grinding experience.
INNOVATIVE EXTERNAL ADJUSTMENT
Different from the original external adjustment mechanism we have on other models, the X-Pro S has a new external adjustment design which moves the burr by 12.5 microns per click and is easier to "zero" after reassembly.
New Heptagonal Burr
The X-Pro S features a heptagonal burr that produces consistent grinds for an evenly brewed and balanced cup of coffee. It is suitable for use in both pour over and espresso brewing methods, delivering a light and sweet flavor profile. Additionally, its burr size makes grinding coffee easier
X-Pro S Foldable Handle
Space-saving: The grinder takes up less room when the handle is folded.
Stability: With the handle folded, the grinder is less likely to fall over when placed on a table.
Ergonomics: The improved knob design is easier to grip for individuals with smaller hands.
Package Contents:
1Zpresso X-Pro S Manual Coffee Grinder, cleaning brush, anti-slip rubber
Product Specifications:
Color: Silver
Weight: 610g
Dimensions: 16 x 18 x 5.2 cm
Grounds Capacity: 25-30g
Materials: wood, polycarbonate, silicone, stainless steel, and aluminum alloy